Cone Beam Computed Tomography (CBCT)
High-resolution image quality and much lower exposure to radiation
The cone beam computed tomography is the latest digital cross-sectional imaging technique in otorhinolaryngology that allows us to depict every tiny detail of the skull in a completely new three-dimensional way.
Different views of the respiratory tract displayed by CBCT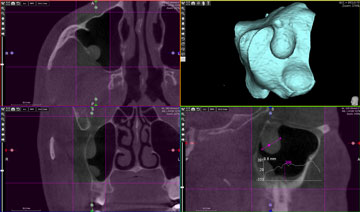 Three-dimensional imaging of the smallest details in selected image sections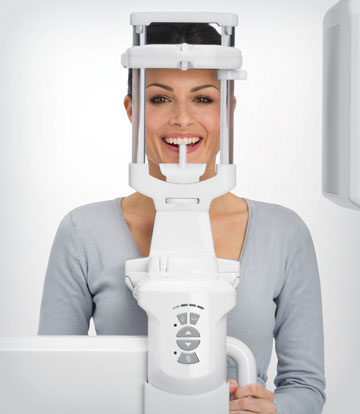 Uniquely gentle, low-radiation examination
One of the key benefits of this method is a significantly reduced radiation exposure in comparison to a common CT scan. The CBCT only requires around 10 % of the radiation dose of a regular computer tomography.
Consequently, the patient's eye – especially vulnerable in children and young people – which is almost always within the field of view when diagnosing otorhinolaryngological disorders will remain unharmed. Therefore the CBCT is ideally suited for the examination of young patients.
Razor-sharp image display due to extremely high resolution
The CBCT examination outperforms any regular CT scan by far due to its considerably higher resolution which means that areas that have previously not been visible – e.g. the tiny bones in the middle ear – can be pictured pin sharp.
When diagnosing acute or chronic sinus diseases, salivary gland inflammations or functional disorders of the cervical spine or when scattered solid objects need to be visualized three-dimensionally, the CBCT is the state-of-the-art examination technique in the ear, nose and throat area.
Patient-friendly comfortable exposure technology
The short examination lasting less than one minute is done while you are comfortably seated and will be over before you know it – without the slightest feeling.
Clear diagnosis – clear decision
The CBCT allows us to do an in-depth analysis of a possibly necessary surgical procedure during one single doctor's appointment.
What this means for you: It means that it will be a lot easier for you to make a decision whether to have surgery or not without undergoing another high radiation CT scan elsewhere.
Contrary to private health insurances, the statutory health care providers will not pay for this treatment yet. Therefore we offer this examination to our patients who are covered by the statutory health insurance scheme on a self-pay basis. Billing is done according to the medical fee schedule (in Germany GOÄ) applying the lowest increase factor.