Our ENT practice
Where to go first
Come and see us in our modern, open environment and take advantage of receiving treatment to the latest medical standards. Four central treatment rooms form the heart of our health care facilities. Additionally, we have a bright pleasant waiting room and various rooms for specific diagnose and therapy.
Our ENT office is within easy reach just outside the town centre in the district Völkerviertel in Hofheim. You can get there from the station with public transportation (bus stop nearby) or by car. If you prefer, you can also walk or take your bicycle.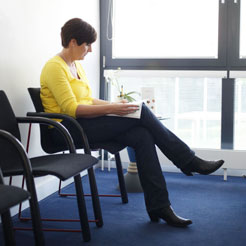 There is ample parking space next to our wheelchair-accessible building. A lift for disabled access brings you straight to our pleasant interior.
Appointments can be made by telephone or e-mail. It goes without saying that your requests will be treated confidentially and of course we will return your call promptly, if you so wish.
Remuneration is based on the statutory scale of medical fees for physicians and is usually assumed by any statutory health insurance without any trouble.
As a private patient the refundable amount depends on the contract that you have agreed with your insurance.
As a self-paying patient there are no formalities.